A sip from a refreshing cocktail as the red sun sinks in the distant waves of the Ionian Sea.
A stone-built bar decorated with care and beautified with traditional touches that perfectly blend with the surroundings.
L' été Sunset Bar – because l' été means summer.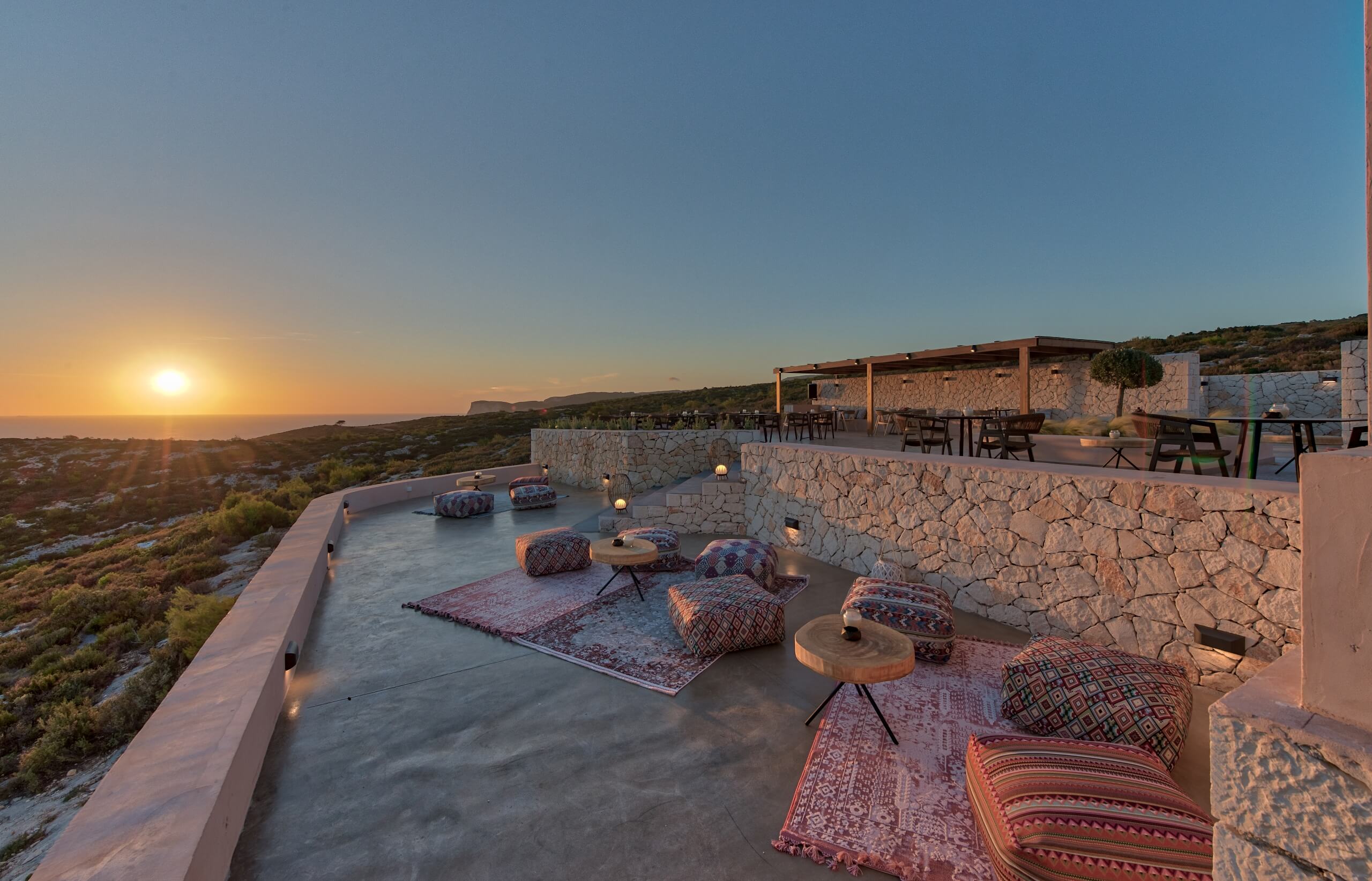 In an idyllic landscape, overlooking the famous Limnionas coast, the western coasts of Zakynthos and the deep blue of the Ionian Sea, is L' été Sunset Bar:
a perfect addition to Zakynthos's already breath-taking beauty and arguably the best bar to visit on the entire island.
L' été Sunset Bar is a brand-new bar – opened for the first time this summer- and offers the guest a relaxing environment of lounge music and enchanting colors from the unique sunset.
Choose wine labels that satisfy even the most demanding wine connoisseurs.
Taste exciting signature cocktails with aromatic herbs, fruit flavors and spices.
Accompany the creations of our experienced Chef with tasty cold dishes.
After your cocktail why not induldge on smoking hookah!
With quality tobacco and a variety of unique flavours and mixes, shisha is the perfect way to complete L'ete Sunset Bar experience.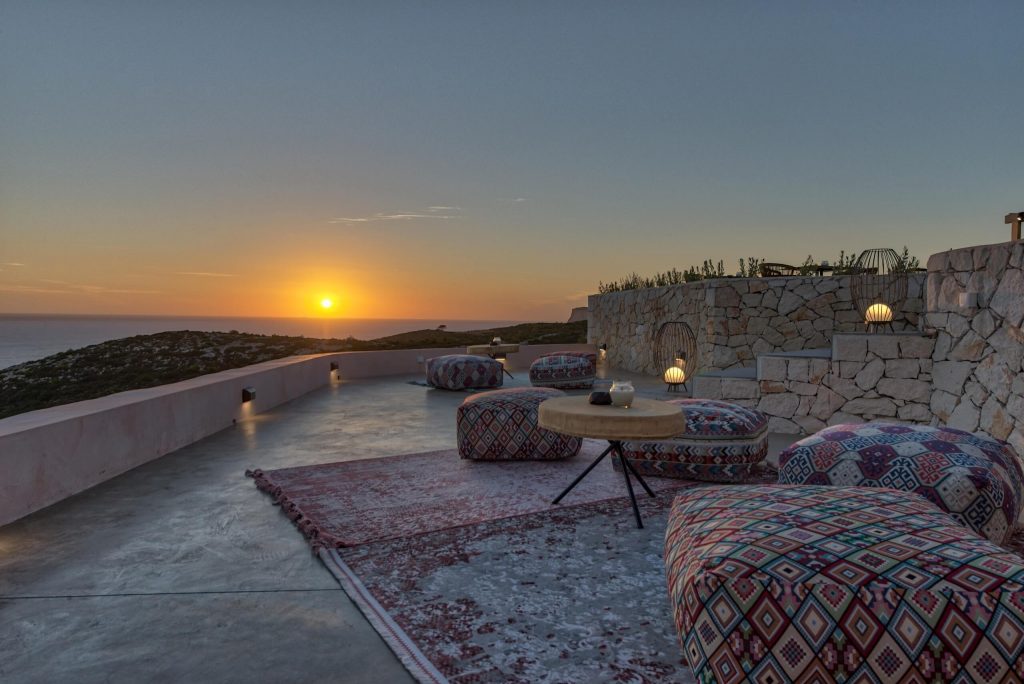 At L' été Sunset Bar you will indulge in an unparalleled experience of romance, fun and gastronomic pleasure, while gazing at the most beautiful sunset of Zakynthos.
We are waiting for you.
L'été Sunset Bar is open from 5pm until midnight. For your convenience, it is preferable when you book a table (by e-mail or telephone) beforehand.
Check out our food menu, wine list, spirits & cocktails menu
L' été Sunset Bar is located on the western coast of Zakynthos island, over the beautiful coast of Limnionas, enjoying an enchanting view of the sea.
Being hidden among the rocks and bays, the beach of Limnionas doesn't attract many visitors;
it is the ideal place to swim surrounded by untouched natural beauty and turquoise waters.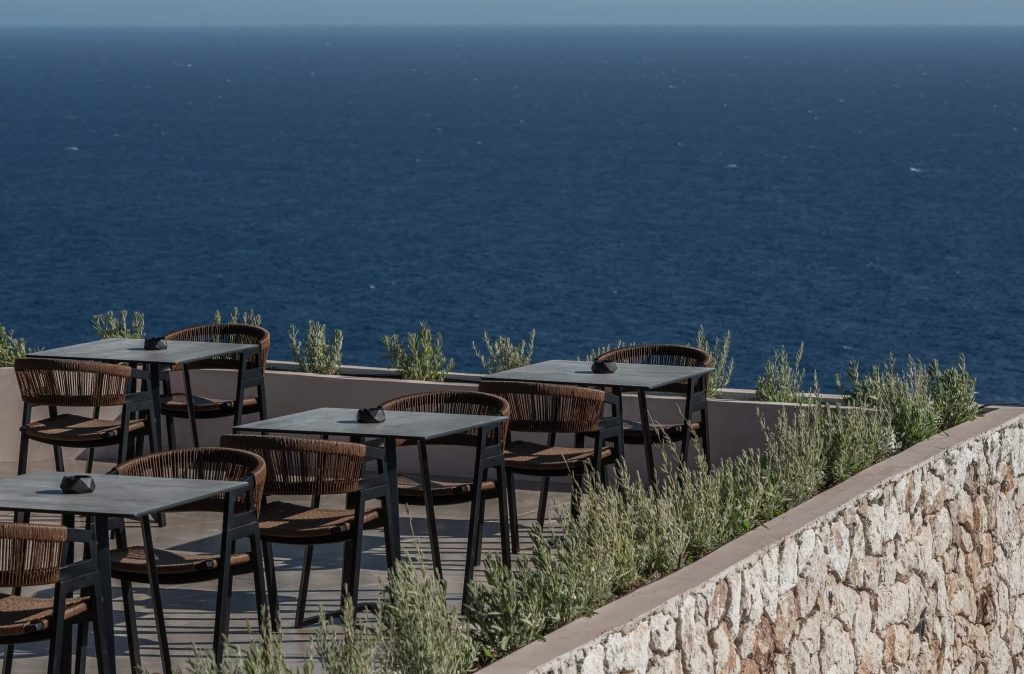 Right after your swimming, you can visit L' été Sunset Bar and continue your natural connection, visually embracing the entire sea and the majestic sunset.
There are many ways to contact the L'été Sunset Bar or make a reservation. Below you can see all the available options. If you have any questions about our services, do not hesitate to contact us. We will be happy to help you.
Do not hesitate to call us for information on L'été Sunset Bar
Go to the online booking system, where you can book a table at L'été with instant confirmation.
Do not hesitate to email us for any information about L'été Sunset Bar
Το αίτημά σας έχει σταλεί στο τμήμα κρατήσεων. Θα επικοινωνήσουμε μαζί σας με τις απαιτούμενες πληροφορίες το συντομότερο δυνατό.